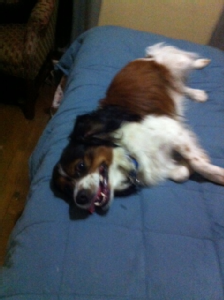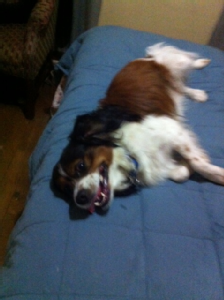 On August 25 our King Charles Spaniel, Marshmellow, escaped from our fenced-in yard. He went missing for two days while we searched for him to no avail. As you can imagine, we were devastated all the time we were looking for him and having no luck. To make matters worse, I had just purchased a new collar for Marshmellow and had not had the chance to transfer all his tags onto it. This new collar was thicker and I wasn't sure that Marshy was going to adapt to it since his previous collar was so much thinner. So, I had taken it upon myself to just hold off for a few days, thinking that in the end I might have to return this new collar. Now, there was my dog, missing, with no tags, no identification – NOTHING!
The kids started spreading the news through social media, posters, online searches and newspaper advertisements. When we notified PetLink they immediately had posters ready for us to print. I was very impressed, as I had no idea this was a service they provided. I printed out numerous copies and had a slew of friends and family helping post them all around town.
Still no Marshy 🙁 Then, two days later, I was driving home from work when I received the phone call that they had my Marshmellow and that he was at the city pound in a town 20 minutes from my home. Best phone call ever! My son and I rushed over to where he was and, naturally, both the family and Marshy were happy to be reunited once again! Thank God I had Marshmellow chipped!
---