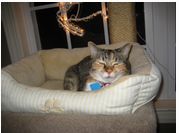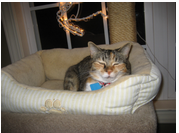 We recently moved into a new home and my kitties do go outside. So, after three weeks of confinement, in order to let them get familiar with the new house, I opened their kitty door. Ace normally just likes to sun herself on the patio but, one day before the holidays, a large, windy dust storm kicked up .
Ace must have been outside and got spooked. I noticed the next morning she was missing and when we searched around the neighborhood we couldn't find her. She wears her collar and blue PetLink tag, so although I was worried, I was also hopeful she would be located. When Ace had not returned by Saturday, we used the PetLink site to print flyers and hung them up throughout the neighborhood. We were very worried as it was very cold by Nevada standards and Ace is a tiny cat.
We were hoping for a Christmas miracle and it came, just a week ago, on December 26 when Ace was reunited with us thanks to the help of PetLink. People about three blocks away had seen her hiding under a car and then saw the posters we had made. They picked Ace up, brought her to have her microchip read and she returned home to us safely the day after Christmas.
---