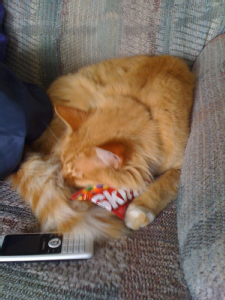 I lost my cat, Chance, about five years ago in Salinas Ca. He has a microchip and was scanned on August 22 in Soledad Ca. How he ended up in Soledad I have no idea! Some nice lady from Soledad found him and turned him into the animal hospital. The vet scanned Chance for a microchip, they found he had one, my information came up and they were able to contact me. I was at home chilling when the call came in.
They asked if I'd lost a cat and I said that I had.They told me they had Chance and when I heard his name I started crying for joy! But then they told me that Chance had health issues which needed to be addressed by them or by my vet. The staff at the vet told me they were going to close for the day in about an hour and asked if I wanted to pick Chance up.
I left my house so quickly that my brother and I had nothing to drink on the way up and I was crying all the way to Soledad. I talked to the vet  about Chance's condition and what veterinary services he needed. I then went to see Chance and he looked like hell. I stuck my hand out for him to smell. His ears were down and he had a sad look on his face but he smelled me and cheered up a lot. I then paid the vet and took Chance to my vet where he had a biopsy for lumps on his neck. Chance is now home with daddy again and, in closing, I'd like to say that I strongly believe in microchipping your dog or cat. Remember, if you move or change phone numbers, to constantly update your information. That's what I did and it worked for me. Always keep your missing fur child in your heart like I did and I hope it will come back to you too.
---