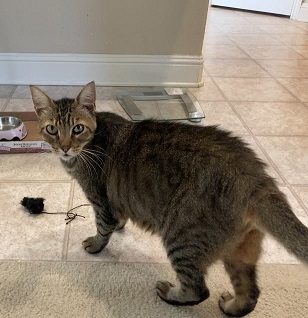 My Rocklin Ranch Veterinary Hospital had Tarzan's chip number. Tarzan became mine over a year ago when the elderly couple caring for him had health problems and had to go into a care home. He had been abandoned by his owner several years ago but neighbors fed and cared for him.
Obviously, my small back yard became boring for him and he decided to check out the neighborhood. Pet Link provided the most beautiful and eye catching posters with his data, to choose from. My son and I posted them in the neighborhood for several blocks. Also, I posted the lost announcement on the app Nextdoor, a neighborhood information exchange system. One lady responded that she fed local wandering animals, including pets, and she would watch out for him. Happily, she texted me, a week later that Tarzan was eating in her yard. He was about a mile away. I hope to keep him inside for weeks, but that is tricky. He wants out to explore.
He is home for now. If he gets away again, I hope he remembers the lady's location for food.
---