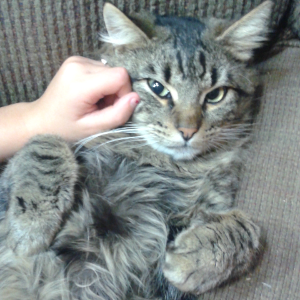 Our cat Niko went missing, but we soon found out that someone near us had taken a cat like him as a stray to the police department. The PD sends all strays to a local rescue where, they assured us, the team scans all pets for microchips. We asked the rescue center for the incoming pets' records and were told they were missing. We went back and forth between the rescue and PD multiple times, getting told the paperwork was missing from the rescue. The PD told us that the cat they took to the rescue had white paws, even though we located the lady who had brought Niko to the PD and she said the cat she took in was definitely him and had no white on him. The PD said she must have been mistaken and we took their word for it because they said they scanned all the cats and none had microchips.
We didn't give up and even though we were told that our cat definitely wasn't at the rescue, we soon learned to our horror that it wasn't the case. My mom went out there with my two young daughters and found a cat among many other cats in an outdoor pen, terrified, filthy, drenched in mud, rain and dirt. He looked so bad they couldn't even be sure it was Niko. But, he came up to them and meowed and my young daughter swore it was him, her very own cat, so we asked them to scan him for the chip. This time the rescue could not check for information, unable to scan him since they didn't have batteries for their chip reader!!!!!!
Instead, we took the cat to the vet and had him scanned, confirming it was our precious baby boy. Niko is EXTREMELY happy to be home and we are soooo happy to have him back!!!! Our family is now complete again. Because I wouldn't give up when both the police and the rescue centre were telling me otherwise, I singlehandedly got our baby back. Niko was gone for ten days from his family when he could have been reunited with us the day after he went missing because he has the PetLink microchip. NEVER GIVE UP!!!!!!!!!!!!!!!!!!!
---