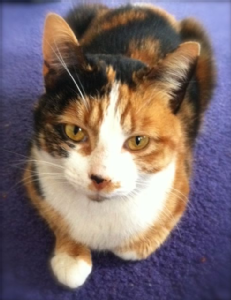 On September 15 2012, my one-year-old cat, Spritz, disappeared from our backyard. After 24 hours passed and she was nowhere in sight, I began the frantic process of posting a Craigslist 'Lost and Found' notice, making and putting up 'Lost and Found' posters in my neighborhood, visiting area vets and, every other day, visiting our Animal Rescue shelters – racking up 70 miles a week in journeys to look for my cat.
Days passed, weeks passed, and then months passed. I came to the conclusion that Spritz was either dead or someone took her in. I hoped it was the latter but, really, I just gave up hope of ever seeing her again. Yesterday afternoon, almost four months to the day since she disappeared, I received a phone call from a vet in another city in our metropolitan area saying, 'We have your cat, Spritz.'
I could not believe what I was hearing! Between sobs of relief, I understood that a kind person had recently started to feed a cat who showed up at her house and then she took the cat inside. After two days, this kind soul realized that this was probably someone's cat as opposed to a stray and brought her to a vet to check for a microchip. Thankfully, the microchip signal was picked up and shortly thereafter came the phone call I thought I would never receive.
There would have been very little, if any, chance that I would have been reconnected to my cat, Spritz, if it had not been for a microchip from PetLink.
---