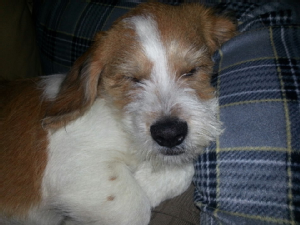 I could probably write a book, but I will make my story short. My son lost his long time buddy, Mickey, a 12-year-old Shih Tzu to heart failure, so we decided to adopt another Shih Tzu. I came upon an advertisement that said Basset Hound/ Shih Tzu mix. The puppy was only a month old but, not to worry, we had goat milk and little Charlie, as we named him, did well until, two months later, he went outside to play with my other dog in the yard and disappeared! We looked for him till dark but Charlie was nowhere to be found, so we assumed the coyotes got him. Mind you, we live on a 269-acre ranch surrounded by 3000 acres of equine trails and 560 acres of government land so it never crossed our minds that a young puppy would make it to civilization. But he did, and made his way to a barn where a lady found him. She could not keep a puppy so she called a friend who sent her son to pick up the little guy. They reported the found dog to the nearest shelter and waited to see if anyone would claim him. Two weeks went by and, of course, we did not contact them, fearing the worst.
In the meantime, the shelter found out that Charlie had a microchip and they called PetLink. By then though, they were mad, thinking we must have dumped the little dog at the remote location. So, the shelter gave PetLink Charlie's microchip number and asked if the dog had been reported lost. The operator said that he had not been reported missing but offered to call the owners and let them know that the shelter had our dog. The gentleman from the shelter said, 'OK' and told PetLink he would call in two hours to find out why we had not reported the dog missing but then hung up leaving no information about where Charlie could be found or which shelter he was in.
PetLink called me and, not being able to contact me immediately, called my fiancé and told him that they had found Charlie. My fiancé called me and I cried thinking that I had lost my dog one more time. I called PetLink myself and made sure the operators knew the story and asked them to let the people who were caring for him know that we loved Charlie, and how important he was to us. They were the worst four hours of our lives as we waited for the shelter to call again. At last, they did call back and the PetLink operator patched the phone call through to me. I was crying so hard, because the man from the shelter was mad at me for not looking for Charlie and for failing to report him lost. So I said to him, 'Please bring Charlie back and you will see why.' After talking to me, he understood how much we loved Charlie and agreed to bring him back to us. When they arrived and saw where we live, they also agreed that finding him was nothing less than a miracle!! I can't emphasise enough the importance of microchips. It should be required by law to have your pets chipped. Without a chip, we would have never got my Charlie back or known his fate. Once again thanks for the amazing work you guys do at PetLink.
Ana, Joseph and family!
---