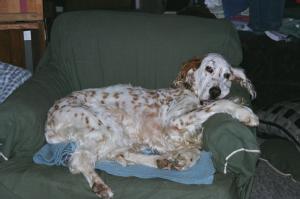 My dog, Chase, is an English Setter, white and orange with a mellow, obedient temperament. There is one thing that really troubles Chase, though – fireworks. Last year, to escape the stress from July 4th fireworks, we took Chase to stay with his breeder on far away Whidbey Island in Puget Sound. That was last year and it worked fine. This year I did the same but Chase decided to come looking for me…
No dog has ever escaped from the breeder before, nor has Chase ever tried to escape from anywhere. He has certainly had the opportunity but never took advantage. Once we realized that Chase had got out of the breeder's compound, a local family on the island searched relentlessly, multiple times a day, never giving up. I went down there myself twice to look for Chase, searching without success.
Chase's disappearance was listed on PetLink, in six newspapers and on two Facebook 'Lost Pets' pages. We had flyers out everywhere. Then a lady called at 6:30 a.m. one morning to say she had heard a dog barking for a few days. The family who were keeping a look out for Chase on Whidbey Island rushed over to the spot and still couldn't locate him. After many prayers one member of the rescue team spotted Chase on a white boulder and a rescuer was rappelled down around 200 yards to where Chase was trapped. The man had to use a machete to clear a path to get Chase out before he and my dog were hauled up to safety by two more rescue angels!
---