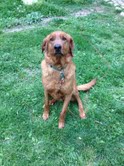 We've had difficulty with Ziggy ever since we got him. He's a shelter dog and I can only assume he ends up there because he runs away all the time. We've tried every trick in the book to keep him home. When he used to go missing we would call the two shelters in our town and ask if they had him by description. We got him back that way numerous times.
Last time we went to get Ziggy at the shelter after he bolted, they asked to put a microchip in him. He has a propensity for losing tags too! I was very glad to pay for the chip. The most recent time he ran away, he ended up at the same shelter and thanks to the chip, we got him back within the hour. Even if he's missing overnight the chip gives us the assurance of a quick return. The system is very simple, easy, and helpful to use. It was the easiest time getting him home because of the chip.
Bless his heart, these 10 acres can't keep him in. There are trees all around and he'd be off after whatever scent he smells so we have him on a tie-up. Ziggy is a sweet dog but he really is location impaired. We are really, really glad we got him hooked up with a PetLink chip.
---