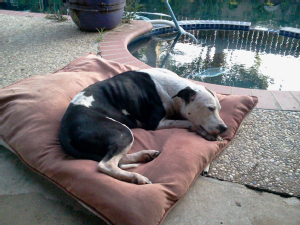 We wanted to let everyone know that we found our Pit Bull, Lily, after she was missing for two weeks and out of our sight for three! Lily had been at an obedience training center for a week when she got loose and, needless to say, we were not impressed with the security there.
We found Lily near a college, eight miles from the place where she should have been at school. She has lost some weight, has a couple of cuts and scratches but is in good shape otherwise. The people with Abandoned Animal Rescue were so much help. Even though we recovered Lily ourselves, just knowing that if she was picked up she could be identified by her microchip gave us great peace of mind.
Thanks for your thoughts and prayers.
Joe and Becca
---