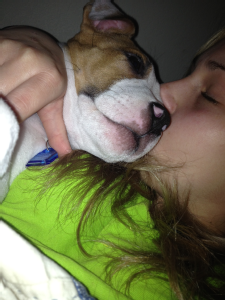 Posted: September 13, 2012
I was working in the kitchen and went to take trash out to the garage, stopping at the refrigerator which is also out in the garage. The door to the house swings closed so, typically, if you don't close it, it won't close by itself. I accidentally left the door open, didn't realize my Pit Bull, Trey, was following me and he got out. I didn't see him walk out and he doesn't run. In fact, I didn't even know he had gotten out, so I closed the door and went back inside.
I continued to clean the kitchen and was still not aware Trey wasn't there. After half an hour, I called for him and, when he failed to answer, I thought, 'That's weird…' The moment I stepped outside to look for Trey was the exact same moment I got the call from PetLink saying a neighbor had found him right by my mail box.
She had recently moved to the neighborhood and didn't know Trey belonged to me. Also, he had just had a bath so there was no identifying collar on him. When I met her, I thanked the lady so much. She took Trey right down to the vet who scanned him very fast. She got in touch with PetLink through the vet and then she brought Trey straight to my house.
Thank you so much for your help! He's absolutely precious. He's the love of my life.
---