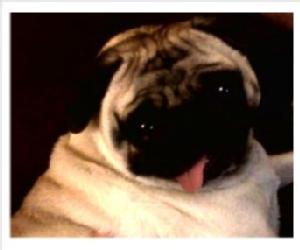 Posted: February 10, 2014
My dog, Princess Lucielle Grace, Lucy for short, was hit in traffic. A good Samaritan saw the accident and took Lucy to a vet, kindly staying until I arrived. What luck that the vet in question happened to be Lucy's own doctor! Because I had Lucy microchipped the vet was able to contact me through PetLink.
Poor Lucy is recovering from her ordeal. She suffered a concussion, bruises and eye damage. She is very tough for a 28lb Pug and we hope for a good progress report. I asked the doctor what would have become of Lucy if I had not had her chipped. She said that minimum treatment would have been given and that Lucy would have been turned over to the Animal Protective League or adopted out. However, I found out that if Lucy had had serious injuries she would have been put down without my knowledge. I am so glad that I got her microchipped!
---