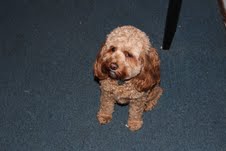 We have an adorable apricot-colored Cockapoo named Lulu.
We don't know how she got away. We just moved home and my husband I and went out to run errands. We got a call from PetLink first, then from the animal hospital that someone had turned her into. They said she was fine but we were stunned – we didn't know she was gone!
We're still not sure how she got out. She either snuck out behind us through the front door real fast or she was on the patio. We were going out with the baby and took a long time gathering the various items you need. Lulu must have run like the wind, taking herself for a walk.
She must have got anxious because, when she saw a man walking a dog, she started to follow them! He took her to the vet down the street who scanned the microchip, then to the animal hospital. We ran to the animal hospital where she was safe and sound. We were delighted and Lulu thought it was amazing. She was all wiggles, excited and very happy.
Ever since, we have been implementing a very strict system of treats and commands. She must have been romping around a lot with nobody to corral her. She's a bit persistent and is getting adjusted to the new place. It's great to know that, through the chip, if it happens again, Lulu can be identified.
---