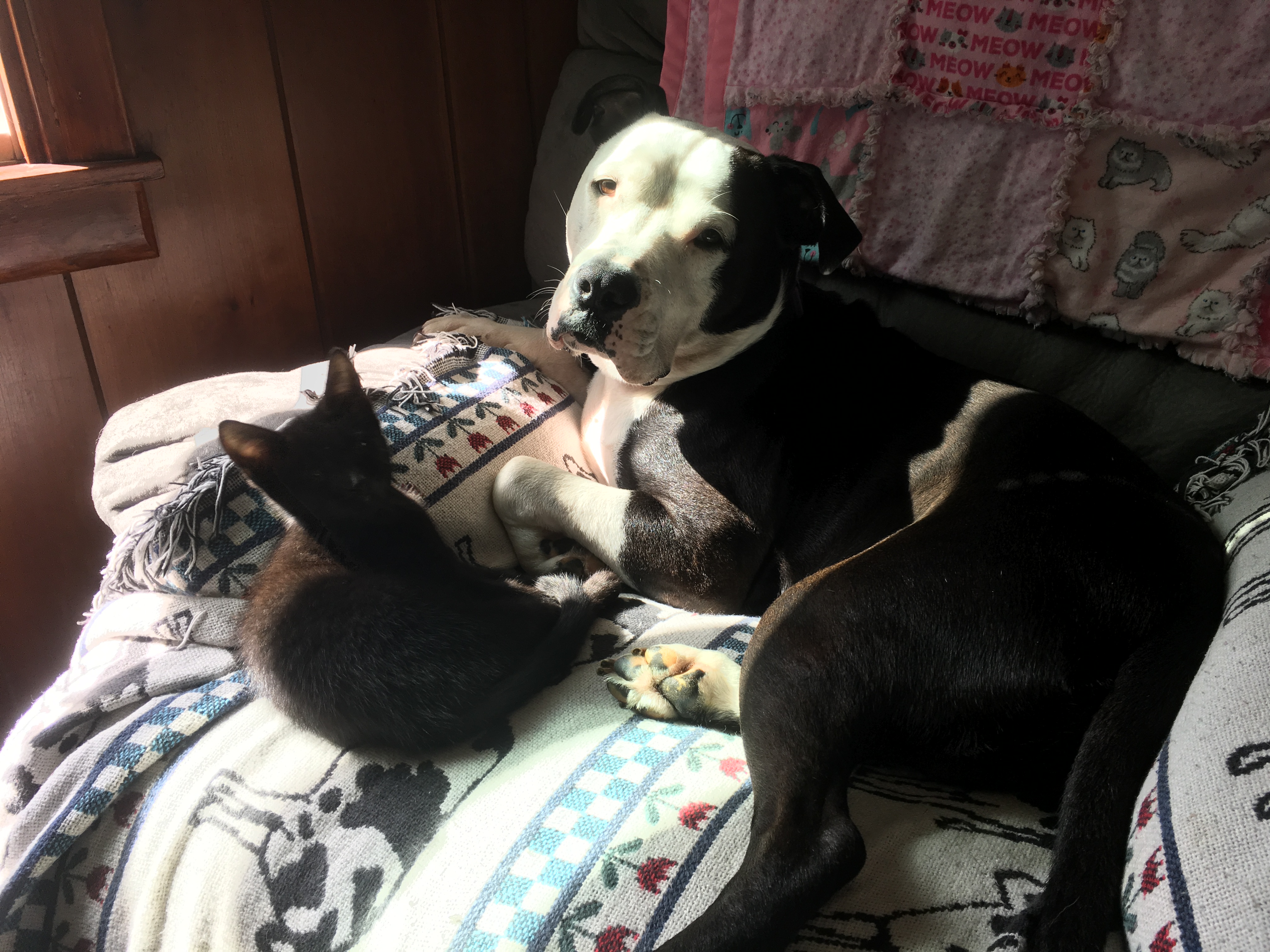 Posted: November 30, 2017
My Terrier mix, Oakley, had become quite an escape artist slipping off leashes and even a harness. In an effort to keep her contained and not tied to a long run line, I had my back yard, which opens up to my fenced pasture, also fenced.
This particular Friday morning, I put Oakley and my other dog Gilbert out in the back yard with a variety of their usual treats and playthings like Kongs stuffed with frozen peanut butter and chew toys. I work from home, so I am able to check on them often.
About an hour later, and on about the third time I checked on them, I saw Gilbert sitting down by the pasture gate, but no Oakley. My thought was that she was up in the pasture sniffing and tracking critters and I wasn't too concerned. Both dogs have ID plates on their collars rather than tags that can come off. Hours went by and no one called me to say that they had my dog but I still had no Oakley. Later in the afternoon, I called the dog catcher but they had not received any calls for a dog fitting Oakley's description.
About 4:30 that afternoon, I received a call from an individual who lived on the road that backed up to the woods next to my pasture. He asked me if I owned a dog named Oakley. I was extremely excited and said 'Yes, I'll be over to get her'. The problem was … he only had her ID collar and still there was no dog.
I drove over to get Oakley's collar and to see what had happened. I learned that, in fact, Oakley had spent all day at the house of the son of the person who contacted me. While the guy worked in his yard, Oakley sat in his truck watching him the whole time. The guy wasn't able to call me as he had some vision issues and couldn't read the tag. When his dad got home, the father put Oakley on a run line while he took care of his own five dogs.
He had intended to call me after he finished with his dogs. Well, when he walked around the side of his house to get
Oakley, there was only her collar on the end of the line. Oakley had slipped her collar and taken off again! He told me that if he saw her again he would call me.  So, I thanked him and started driving around to see if I could spot her. I went home upset and crying and started to make flyers to post around the area.
I did not sleep all night. It was extremely cold that night and I hoped Oakley wasn't out in the weather. My biggest fear was that she might have gotten into the wrong hands.
I woke up Saturday morning and was about to go post my flyers. My phone rang and the caller ID was a shelter in the next county. I was so excited because I knew that meant something about my dog Oakley. When I answered the phone the manager of the shelter asked me if I owned a dog named Oakley. I said yes and then she told me they had my dog. I started sobbing, I was so relieved and happy and I told her I would be over to get Oakley.
I asked the shelter – how did they end up with Oakley? Remember, she didn't have her ID collar on, so I wasn't sure that if someone found her they would take her to a vet's office to see if she was chipped.
The dog catcher told me that Oakley had made it about another mile down the road away from my house and she was sitting on the porch of a very kind lady. The lady felt bad for Oakley as it was so cold and nasty outside, so she let her in the house and called the dog catcher. At that point, Oakley was taken to the shelter and spent the night there.
When the shelter manager came in the next morning, she checked to see if Oakley was microchipped and, very thankfully she is! It was then that I got the call to come and get her. If Oakley had not been microchipped, I would never have seen her again and never have known whether she was safe and OK and what had happened to her.
I tell to anyone who does not have their pet cat or dog chipped to take the time to get it done. You may think you will never need to use it, but you do not ever want to wish you had! Thank you so much, PetLink.
---