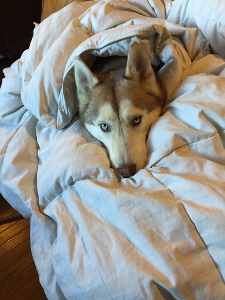 Posted: December 18, 2015
Fenway, our eight-year-old German Shepherd and Paxton, his three-year-old Siberian Husky 'brother', were outside in their fenced-in yard. At the time there were men working in and around the house and one of them needed to go work outside so our daughter put the dogs in the laundry room. Fenway, who is around 95 lbs and very tall, opened the door and pushed his way past the chair that was against the door. Seeing that the door to the garage and the big garage doors were open, Paxton took off. Fenway followed but only to the end of the yard. My husband came home a few minutes later and Fenway barked and ran around in circles. Finally my husband realized Paxton was gone. He put Fenway on his leash and Fenway led his dad through the neighbor's yard and the trees, tracking Paxton.
I received a call from PetLink while I was at work. Kathy, the kind lady at PetLink explained that Paxton had been found. I was shocked because I didn't even know he was lost! Kathy told me that a woman had seen him alone in the soccer fields about a half mile from our house and stopped to see if he would come to her. She opened her car door and he jumped in! She checked his PetLink collar and used either the PetLink tag or his collar to find the PetLink number. Fenway and my husband met up with the lady shortly thereafter, and she loaded up the two dogs and my husband into her car and drove them all home!
---