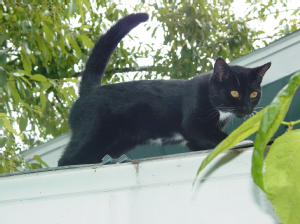 Our cat, also known as A Ninja named Penguin, was reunited yesterday with our family after being lost for over 11 months!! He is an indoor and outdoor cat who went missing in action before we moved house. Later, when we did move, we returned to search for him for about three months, since I still had a job in our old town. After that, though, it was sometime before we were back in the area where we used to live.
Knowing how Ninja our cat was, we had faith he was OK but we continued to miss him dearly! Then, yesterday, I got a call from our County Animal Services saying they had found Penguin and checked his PetLink microchip. Because of his microchip Penguin was found, taken to the shelter, identified and returned to us all within the same day he was found!! He only spent half a day at the shelter!
PetLink provided them with our contact information so we could come take him home! We immediately went to get him, brought him home and now we couldn't be happier!! THANK YOU PETLINK!!!
---