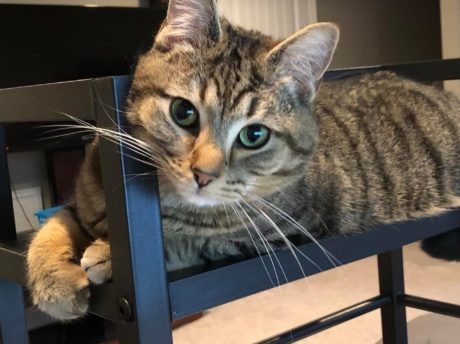 Theo became part of my family in 2018 when I adopted him from the local Humane Society when he was about 1 year old. I had him microchipped  with PetLink at that time, not realizing just how important that would be to my family 5 years later.  Theo, along with Stella, a cat that I adopted at the same time, added such joy to the lives of myself and my children. Theo's gentle nature and warm personality endears him to all he meets and made my family love him all the more!
On October 6, 2022,  the front door of our house was accidentally left open and Theo went outside and ran away. My children and I, along with many of our neighbors attempted to locate Theo and continued our search daily over the next several weeks and were unable to find him. While myself, my children, and our other cat, Stella,  grieved the loss of our precious Theo, my kids and I held out hope that he was still alive and someone had found and was caring for him. In November 2022, we adopted an 8 week old kitten, who we named Duncan. While this spirited boy served as a bright spot following the loss of Theo, there was always a void left that couldn't be filled.
Fast forward to October 24, 2023. That morning, I received an unexpected call from a local veterinary hospital informing me that Theo had been brought to that clinic. I was elated and stunned to receive this phone call after he had been missing over a year! Thanks to his PetLink microchip and the staff at the veterinary clinic, our Theo was able to return home that day, perfectly healthy! PetLink went above and beyond by reaching out to me the following day to confirm that Theo had been reunited with me and my family.
Theo returning home after being missing over a year is truly amazing! Back in 2018, I had absolutely no idea that Theo's microchip would result in his miraculous return home 5 years later!
---