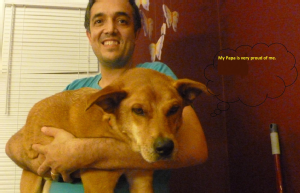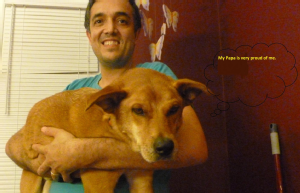 We adopted Rex from our county's Humane Society on 2 June 2012. He went missing only ten days later on June 12, escaping through an open gate in our backyard. PetLink enabled us to immediately make missing posters for our beloved dog and distribute them quickly in our neighborhood.
Fortunately, Rex was found – more than a month later – by a kind lady. She saw our Australian Cattle Dog who was stuck between two fences and left some water and food for him before reporting him to the County Animal Control. The Animal Control officer called me to say that they had Rex.
Rex was still wearing his collar with tags, one for the shelter and the other for PetLink. When he noticed the PetLink tag, the officer was able to contact PetLink for our information. He had called the shelter on the day it was closed to the public. But thanks to his microchip, he scanned Rex and through PetLink's 24/7/365 service got our information and reunited us with him. Rex's microchip and tags enabled the Animal Control officer to quickly find out that we had filed a missing report on him and then to call us to pick him up. Needless to say we were overjoyed to know that Rex was still alive and we would be reunited with him. My family, friends, and other pet owners are also delighted to know that he is back with us.
---