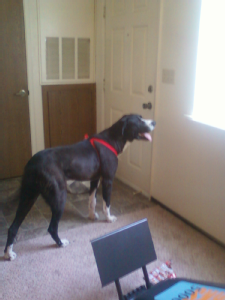 Bella, my Great Dane, was found by a local police officer wandering in traffic down the same street that I was looking for her on (going towards the dog park). He couldn't locate an owner and the local shelter was about to close so he took her in quickly. As they were closing, the shelter didn't process Bella or scan her chip and put it off for the next day.
I suspect that I was following this police cruiser down the street as I was looking for my dog. There was a cruiser RIGHT in front of me. The REALLY odd thing was I could have sworn there was a dog in the back and figured it was a K-9 unit, without suspecting that it was my own dog inside the vehicle!
Also, I was at PetSmart not two days before and was going to get one of those tags to put on Bella's collar with her name, my name and my phone number. They're the kind you buy and have printed up at the in-store kiosk, but there was a woman using the kiosk so I thought, "I'll get it the next time I come in." Well, I'm getting it today! Bella now has her chip number and photo registered at the local shelter. Her PetLink chip number ID'd me definitively as Bella's owner so there was no waiting period to pick her up.
---