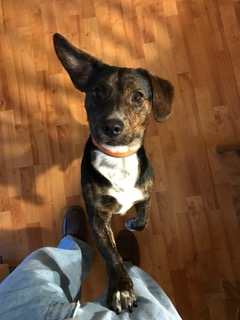 Posted: September 15, 2017
My little brindle rascal Arnold, affectionately known as Arnie, slipped out of the gate a couple of days ago. While I was frantically looking for him, I received a text from PetLink telling me that Arnie had been found. I can't tell you how grateful I am that I initially decided to have Arnie microchipped. I'm equally grateful that the person who found him had the foresight to take him to a local vet who scanned him.
Maybe you know someone who has reservations about microchipping their pet. I highly recommend that that you tell them about our experience and that should convince them otherwise. I didn't just chip my pet –  Arnie is my best friend and, thanks to the microchip, we are together again.
---