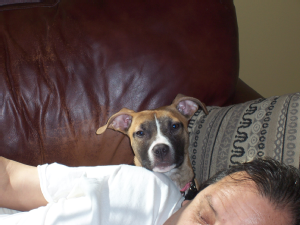 Posted: November 27, 2012
I got a call stating my dog, Daisy, was found and someone in my neighborhood had taken her to a local shelter. I didn't even know she was gone!
Daisy, a Pit Bull, went up on top of a woodpile a little way from where I live and ended up in this man's back yard. I got Daisy right away – it was very fast. I drove over and he was standing there with her. I think it's nice for dogs not to have to wear collars all the time so we have chips for all our animals. Daisy's chip worked like a charm!
---