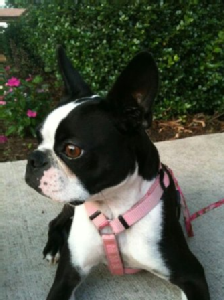 Eighteen days ago, my Boston Terrier, Gabby, jumped a six-foot privacy fence to get away from the noise of lawnmowers in our yard. After she hadn't wandered home in a day or two, I was still sure someone would return her if she was found because she had her name, and my name and number on her collar.
I searched our neighborhood and even went to the neighborhood where I'd gotten her two months before to see if she'd wandered back there. PetLink gave some very good ideas about what to do to find our missing pet. I reported her lost to PetLink and contacted the local veterinarians to report her missing and give them Gabby's microchip number and my information.
I was so excited to get a call this morning from one of those vets who said someone had my dog. The woman brought Gabby to my house and she looked so relieved to be home. Gabby's collar had been replaced, so I expect someone wanted her for their very own and kept her for the weeks she had been missing. Gabby had gotten away from the new place and it was this kind woman and her neighbor who found Gabby and kept her overnight. Since the woman was off work today, she had volunteered to take Gabby to the vet to be scanned. She wouldn't take the reward I offered her, saying she would hope someone would do the same thing should her dog disappear.
If the microchip hadn't been there, the honest pet lovers out there would not have been able to find me to reunite Gabby and me.
---