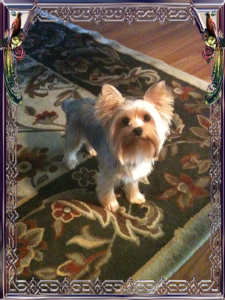 Posted: December 21, 2012
We had some people at the house painting outside. I specifically told them, 'Do not leave this side gate open', while I was busy cooking for Thanksgiving. Later, I got to looking for my little Yorkie, Bella, but I couldn't see her. Sure enough, I noticed the side gate was cracked open.
My husband went up and down the street trying to find Bella and, right then, I got a call from PetLink, and I burst into tears! I called my husband and we jumped in the car together to get Bella. I was so busy that day, preparing for Thanksgiving, I didn't pay attention. Bella could have been gone hours before I realized. It was the mailman who found her for us and when I called the painters, they were very apologetic. Luckily, there are some honest people about.
PetLink, we cannot thank you enough for reuniting us with our precious Yorkie, Bella! If anyone is wondering if chipping their pet works, take it from me – it does! I am so grateful and will always chip my pets, they are like children to me. I would highly recommend the PetLink service. Absolutely the best!!!!!
---