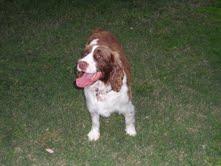 Posted: November 26, 2012
Tito Puente is a classic liver and white English Springer Spaniel and yes, he's named after the jazz musician! We have been reunited and Tito Puente is safe at home with his owner thanks to the microchip and your amazing service. I'm the San Diego coordinator for English Spaniel Rescue America (ESRA). Tito was an owner relinquishment, I was his case manager and then he was fostered in a home in San Diego.
When dogs are brought into ESRA they are registered then microchipped to the company and stay that way for life. In my group, I want Springers registered safely so I do it in my name for the first year and, once I know for sure they will stay for ever with their new family, I change over to the new owner's name.
I hadn't done that with Tito Puente and his owner and it was coming up for a year.
His owner has gone to the ends of the earth for this dog as Tito has very severe separation anxiety. It was just a terrible thing that the first time in a long time that his owner tried leaving Tito alone for a full day that Tito busted out of a very secure backyard. The owner has been using doggie day camp for any long days that he has away from the house but that week he thought he would see how Tito would do and Tito did not do well!
The day before, the two of them had been together at the dog beach and Tito Puente didn't have ID tags or collar on then, but he didn't get lost until the following day. When he was found and taken to a vet, all Tito had to make his way home safely was the microchip still registered to me. The vet scanned him, called and reached me immediately. Then I called the owner and he picked up Tito.
The beauty of this story is that the owner had gone on a bike ride and couldn't be contacted anyway, so it was just as well they called me! It's good to have continuity in registration. I was home when they called and I knew exactly who the owner was. When he swung by to collect Tito Puente we talked about perhaps keeping him in my name or moving me to secondary contact.
We implanted the microchip so Tito would be safe and sound. Now he's back in his fantastic home with an owner working patiently and diligently to help him overcome his separation anxiety. I hope the happy story of Tito's reunification will encourage others to register with PetLink. Thank you for your assistance. It is a lifesaver for dogs to have a microchip.
---