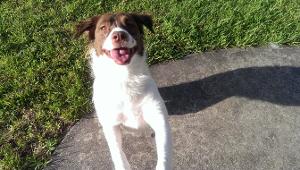 Posted: December 10, 2013
Along with my family, Lilly, my Border Collie, and I, were traveling to Orlando from Fort Myers so that I could try out for the USA rugby team. In Orlando, we met up with my cousin who lives in the city and at whose home I dropped Lilly off for the day. So, everything was going great – I made the team! –and after a long day, I was just wanting to pick up my dog and head home. We pulled up to my cousin's house and I ran to the back yard and yelled for Lilly. No response. I did it again, but now I was starting to get worried because I didn't see her.
I ran around the neighborhood and, finally, someone told me there was a guy who had been calling on people looking for the owner of a lost dog. It turned out he had noticed Lilly's PetLink ID tags and called in to PetLink to say he'd found her. Soon after, PetLink put him in touch with me, he told me he'd found Lilly and, minutes later, Lilly and I were reunited and have not been apart since! Thank you, PetLink!
---