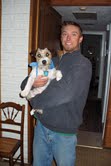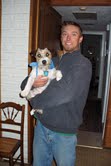 My son Brian has a Jack Russell named Buster. Jack Russells are escape artists, and Buster got out. We were lucky that a Good Samaritan found him and took him to a shelter. The shelter called PetLink, who then tried to call Brian, but he was at work and his phone was off, and his voicemail was full.
Thankfully, they called me, Brian's mother, Kristy, as well. PetLink also got a hold of my son's girlfriend and between us we were able to make contact with the person who found Buster and go get our dog back. The follow up from PetLink was fantastic. They persisted in trying to get in touch with us to make sure we had been reunited with Buster.
I was so worried for Buster when he was missing because he's not car smart. Then, I was so relieved to get him back! He's my grand-puppy. I never had a dog before and I've really gone overboard – I even have a sticker on the back of my car and I bought Buster a load of dog toys!
---