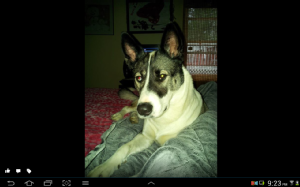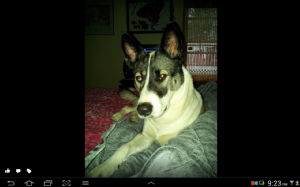 I have my girl, Abby, since she was born. She is the daughter of my brother's dog, a Husky. The moment I saw her I fell in love with her. Her one blue eye and one brown took my breath away. I wanted to take her home with me at once but she was too little. Abby was born on November 6 2011 and I had to wait until January 2012 for the first time to get her home.
Abby is my daughter – she's not a pet – she's my daughter to me. She's always so playful and happy – every time her cousins come over she gets so crazy and excited. On January 25 2012 I was playing with her on the bed and her paw hit my left breast. I thought it was nothing because it didn't hurt.
A few days later I felt a bump and I told myself that maybe Abby had hit me up a little bit hard but it still didn't hurt. On January 27 I decided to see my doctor just to make sure that I was okay and, on January 30, I found out I had breast cancer. I was a stage 3, which is very advanced. I believe if my little girl, Abby, hadn't jumped on me, I probably wouldn't even know I had cancer while my life was being shortened by the minute. I love Abby so much I would give her my heart so she could continue living.
---