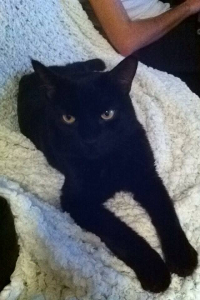 Posted: February 20, 2015
I started cleaning our apartment on the day that we were finishing up moving out and realized, when I went to feed my cat, Anu Oso, and Mikey, my dog, that I couldn't find Anu! I was so sad. My husband and I walked around our apartment community looking for Anu. Nobody had seen him and we couldn't find him. After crying for a while, I decided to start cleaning again because we still had to move and we couldn't leave the place a mess. Fortunately, I used to manage apartments and am always very thorough with cleaning when moving out of a place. I was sweeping behind the washer and dryer and that's when I found Anu. He is absolutely terrified of the vacuum cleaner and, since by that time we didn't have any furniture left in the apartment, behind the washing machine was the only place for Anu to hide!
I had spent two hours looking for Anu and crying, not to mention thinking that my husband might accidentally have let him get out just a week after we adopted him. PetLink is awesome because when I logged in to register Anu, I saw the option of reporting lost or found animals. The site also has a free 'Lost pet' flyer where you can add a picture and it can be posted around where your pet was lost. I'm so glad that PetLink has options to help people find lost pets.
---