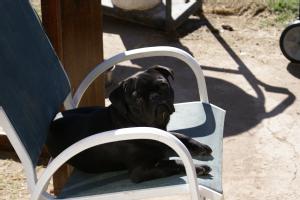 Posted: September 2, 2014
I just wanted to say what a blessing and godsend PetLink is! I chipped my Pug, Biggie, as soon as I received him as a gift from my daughter and grandchildren. Biggie was never left out of my sight until one day he slipped away trying to catch the kids as they got on the school bus because he wanted to go also.
That dreadful day was September 20th 2012. After months, then a year, of posting flyers, contacting every vet in my town as well as pet stores, humane societies, grocery stores and schools, we had no luck.
Then a tip came in about who might have Biggie but when I told the police they didn't find him either. I prayed and had faith that one day, just one day, my Biggie would find a way home and, yes, today is the glorious day! Biggie was found and brought back to our loving arms. After tears on all sides of pure happiness I am so thankful I chose PetLink. Life is great! Thank you, PetLink. You gave me hope and happiness.
---