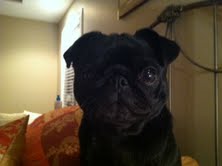 Our Pug, Chewie, got outside undetected around 4:00 p.m. on New Year's Eve. We didn't realize it until 4:30 p.m. when we went out looking for her.
We began by following Chewie's paw prints in the snow but, strangely, they stopped. A neighbor told us a couple of young guys in a car had picked her up.
Going online to PetLink reminded us that making posters will help to find lost pets sooner. Sure enough, eventually the parents of the guys who picked up Chewie saw the poster our son had made, called, and brought Chewie home to us at 11:58 p.m. December 31 2012! It was the Best New Year's EVER. The microchip wasn't involved in this reunion but we are very thankful Chewie is chipped.
---