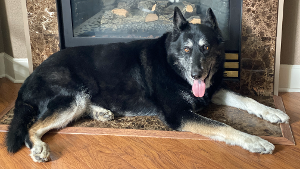 I can't say enough great things about PetLink! Without the microchip implant, my German Shepherd, Cody, and I might never have been reunited. Cody had just come back from his afternoon walk with my boyfriend, J. He proceeded to remove Cody's dog collar which has the tags on it because I was coming home late that evening and he did not think I would take Cody for a walk at that time of night. He replaced it with his night collar. This collar glows in the dark so that you can find him in the middle of the night and not trip on him. Unfortunately, that collar does not have tags attached to it.
J left the patio door open so he could take the trash can out to the street for the next morning. Cody had come around to the side of the house and, seeing the door open, sneaked by J and took off like a bandit. J ran back into the house to get his car and drove up the street where Cody had taken off. No one was sure which way he went, all they knew was that he was running as if something was chasing him.
Some background on Cody: he is a predominantly black bi-color German Shepherd dog that I adopted earlier this year from a rescue group. They got him from the SPCA where he'd been brought in as a stray when no one came to claim him. Cody is about three years of age and close to 100 lbs; he has a very high prey drive which is what I think is causing him to want to run freely. We live in a community that has a lot of open space with a lot of wildlife. He is always looking for birds or rabbits and anything else that moves when we are on our walks. He is always on the leash unless we go to the dog park.
On the night he escaped from the house, Cody was found on a very dark and busy road by a lady who took him to her home overnight. The next morning she brought him to a pet hospital. They looked to see if he had a microchip and this is how they were able to find me. We had spent the whole afternoon and evening looking for him. We had gotten back in the house around 10:00 p.m. which is when I started making phone calls to the SPCA, to the vet, just in case someone might bring him in, to PetLink where they took the information, and another message notifying the rescue group.
Early the next morning we again went to look for him but with no luck. I came home and was getting ready to make flyers when the phone rang. It was about 8:30 a.m. and it was from the pet hospital … the person on the other end asked me if I had a dog named Cody … I knew they had found him!! I drove down to pick him up thinking how fortunate we were that nothing had happened to him.
When I got there, I saw them walking around the store. Cody was stressed but fine and the lady wanted to know if he was my dog. I reassured her by showing her pictures of him, then I hugged her and told her 'Thank you' and that it was the best birthday present, as it was my birthday that day! To those people who have dogs or cats who do not have a microchip – do it! Thank you, PetLink, for your help and follow up on this very happy ending.
---