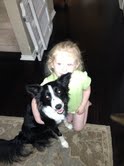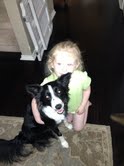 Haley got out of our fenced property on Valentine's Day – she's an indoor/outdoor Border Collie. I went to drop my son off at school, the gate was left open and she was gone – vanished into thin air – when I got home.
We live in a really small community and I stuck up 100 posters with people helping me put them everywhere. I got a million phone calls about Border Collies but it turned out that she was so far away the community could never have found her. One clue appeared in a small park in the neighborhood where some kids found her collar and we began to figure maybe someone took her. Then at the end of a month, it was a month and a day, March 15, I got phone call saying that Haley was in a vet clinic 35 miles away from our side of town!
The vet said, "I have Haley here – is she missing? A lady here has Haley and I can assure you she didn't steal your dog." There's a lake where people dump animals and I learned that this kind lady rescues animals that are abandoned there. She has saved 19 pets in total! She saw Haley a few times by the lake and decided to take her home and care for her, then took her to the vet to get shots. When she found out who Haley belonged to we had just left town but this amazing lady looked after her until we came back.
We don't know how Haley got to the lake – perhaps someone took her and got tired of her. Haley's just a puppy, a crazy puppy. My husband said, "Someone will get tired of her eating the walls", because she really does take chunks out of the wall with her teeth! She's crazy but precious and after her experience she came back a different dog. It broke my heart. But now, at least, Haley and our family are together again and we would not be had she not had a chip. Now, I'm a big advocate of the chip. Everyone should microchip their pets – it's the best thing we ever did!
---