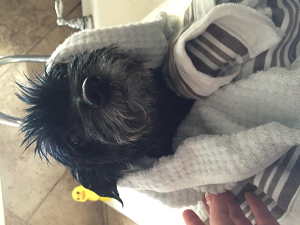 Posted: November 16, 2015
London, my Yorkie mix, hadn't been in trouble in a very long time. Even though he is the smallest dog in the house, at eleven he is the oldest and is well respected by the whole family, including our other three dogs. Things changed the day I pulled the trash bag out of the can and set it aside until I could take it to the main can in the back yard. While I had my back turned, London uncharacteristically started pawing at the bag on the floor, tore a hole in it and started eating the trash. For the first time in years, I swatted him on his rear end. Just one swat. He did not yelp, he did not limp away. He jerked back in surprise and walked down the hallway with a glaring glance back at me, like I had broken his heart. I don't normally yell at my dogs. But I did say in a stern voice that he had no business in the trash. That's when I got 'the look'. I went about cleaning the kitchen then, about an hour later, I received a call from my sister-in-law, stating that animal control was trying to get in touch with me, but could not reach me. They called her because she is my secondary contact on PetLink and asked that I call animal control immediately regarding London. I didn't even know London had left the house!
I still don't know how he got out of the yard but sure enough, he was gone and I called right away. It seems that in his angry mood, he had decided to run away. Later I learned that someone at a nearby park had called animal control to pick London up. The microchip is the only reason I have my dog back. Animal control could not release him back to me right away because they had picked him up on a Saturday so I had to wait until Monday to retrieve him. London was traumatized and sick after having to stay in the facility over the weekend! I had to rush him to the vet for antibiotics. I dread to think what might have happened to London if I had not had him microchipped! I believe it saved his life and he is so sorry he left the house.
---