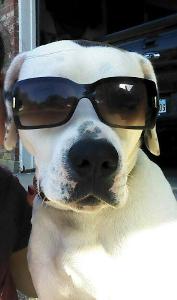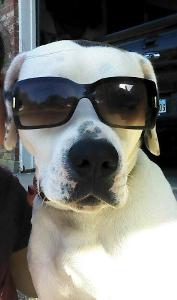 Posted: September 26, 2014
Our dog, Zeppelin, is an American Bulldog. He is a very sweet, even-tempered dog and is loved by everyone that he meets. We took him everywhere with us; to family gatherings, to the stores, everywhere. On January 25th we were at a friend's house and he was with us. He was playing with one of their dogs and the next thing we knew – that dog was still there and Zeppelin was gone. We searched high and low for him that night and there were no signs of him at all. In the following month we were searching the neighborhood every day, hanging flyers through sleet and bone-chilling wind, trying to find him.
What we didn't understand was how Zeppelin had disappeared, as he never runs off. Also, he had his collar on with his rabies tag showing the vet's phone number and the PetLink tag. At this point, after weeks of chasing down leads from phone calls from people with good intentions, we knew that someone had him and whoever had him wanted to keep him. That could be the only reason why they had not called PetLink or the vet.
Neither of us had given up hope, but we did know that our only chance of finding Zeppelin was if he got out of the place where he was and if, then, a good Samaritan would take him to get scanned. We did get a phone call during this time when someone said that they had Zeppelin and told us to meet them at Walgreens. When we arrived, there was no one there with a dog. We called the number back to tell them we were there and they wouldn't answer the phone. Eventually someone answered and told us to stop calling that number. After that happened, it had been over a month and Zeppelin could have been anywhere so we decided to stop hanging flyers. It was too disheartening getting fake phone calls or leads about dogs that weren't him.
I honestly was starting to doubt the microchips. Sure they are great but you have to rely on the person who finds a missing pet to actually do the right thing and get them scanned in case they are chipped. Well, let me tell you that I was wrong with that thinking – microchips are absolutely the best and the only reason that I am able to type this right now with Zeppelin sitting at my feet.
In July, almost six months after Zeppelin went missing, we got a call saying that he had been picked up by animal control!!! I was hesitant to believe it after all that we had gone through, but I immediately jumped in the car and was a nervous wreck the whole drive to the shelter. I got there and went to see him, and it WAS him! I was unable to control my nerves or my tears of joy.
Animal control had found him running in a neighborhood with another smaller dog where they picked them both up and took them in. They scanned and found Zeppelin's microchip and called us. Unfortunately, the other dog didn't have a chip or any tags. My faith in microchips has absolutely been restored and I will tell everyone I can about this story.
It was obvious that Zeppelin had been staying at someone else's house because he wasn't hurt or starving. He had the same collar on that he had on when he went missing but the two tags had been removed. This could have been a much shorter story had whoever found him done the right thing and taken him to get scanned immediately. However, we are just completely thankful that it did work out in the end. He is the same amazing dog now as he was the day he went missing.
I cannot say enough good things about PetLink and microchips! Please always remember to keep your information updated because they do work!
---