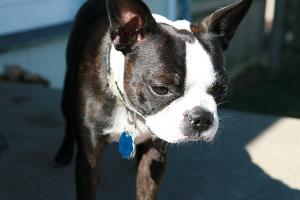 Our Boston Terrier, Shiny, is only a year and a half old, but I can't count the number of times she's escaped. We've fixed the fence, added new locks to multiple doors and gates and filled in holes. Every spring and fall she finds a way to get out. We keep a collar with tags on her at all times. The entire neighborhood knows and loves her. The neighborhood kids actually seem to enjoy chasing her down. She brings joy to the elderly at the retirement home behind our house and even Animal Control thinks she's sweet.
Last week I took her collar off for bath time. I intended to put it back on after she had dried. But life happened and it slipped my mind. I got a call from my husband while I was in my evening class. Shiny had dug under the fence again and run off towards the road behind our house. The neighbor kids saw her go while my husband was busy inside with ours. He loaded the kids into the truck and drove all around the surrounding neighborhoods. I left class early to help look. It was dark and we had no luck.
First thing in the morning I got a call from the nearby pet hospital. A lovely woman had found Shiny within minutes of her escape and taken her in for the night. On her way to work the next day she brought Shiny into the hospital to be scanned for a microchip. Of course she had one! They called me right away and I was so happy that I made the kids wait for breakfast while we drove to the clinic to get Shiny and bring her home.
---