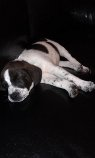 Posted: September 20, 2012
We have our dog, Bandit, in a fenced kennel with seven-foot tall sides in the backyard when he's outside, and he's got out before! I thought someone was letting him out, so I put him in the kennel and watched, out of sight.
He climbed up the side of the kennel and jumped out through the roof. I was shocked! But, thanks to the chip, we got him back and now I will be putting a tarp over the kennel to keep that from happening again!
---