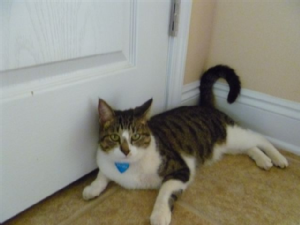 Posted: February 13, 2012
Our cat Strike is a very social cat. He loves to visit the neighbors on our street. He also enjoys going on walks with us every morning. Many neighbors are amazed Strike loves to walk with us and follows without a leash. He's a loyal companion.
A few days ago, we were contacted and notified that Strike was safe and sound at our local veterinarian, St. Francis Vet Center. It was hard to believe Strike was missing because we had just gone on our daily walk with him a few hours earlier. We thought he was at home, sleeping in his basket up on the ledge in our kitchen. He loves this basket and it has a cozy blanket he loves to sleep on. We thought he was at home sleeping soundly. Our phone call told us he was safe but not at home as we had believed.
---