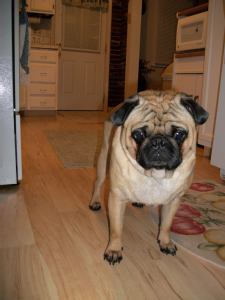 I am so thankful to PetLink. I had a yard sale both in the front and back of my home and the gates were open. I thought I had told everyone to keep Spike secured in the house. He got out a few times and just ran up to people so he could get petted and then, for over an hour, I did not even realize he had disappeared! When I have a yard sale, I get into it with all of me and don't notice some things.
Spike must just have wandered up the street. He is such a lover of people and made friends he met along the way. The neighbor up the street said Spike was just running around playing with the neighborhood children. She checked to see if he was someone's lost pet by looking for his collar and thanks be to God that I had put one on him! Then the phone rang and it was PetLink telling us Spike had been found. It was the best phone call I ever received!
I will never forget that dreadful day when I learned that Spike had disappeared. He is my dog, for sure, loyal as can be, and it would have been very hard to part with him when he comes with me everywhere I go. I think he got jealous and ran off into the neighborhood because I wasn't paying him attention at the yard sale. He was trying to say "I will get her back!!!!" Thank goodness for some good, honest neighbors making sure that Spike did not get very far. Even then, just knowing in my heart that he was gone made me shiver all over and I did not give two hoots about the yard sale any longer. As a matter of fact, I pretty much cleaned up after this event happened!
I just want to say thank you to PetLink and to my local animal hospital for inserting the chip into Spike during a small surgery some years ago. Obviously, if I had not had Spike chipped and put the PetLink emblem on his collar, he could still be missing today. Way to go, PetLink, and the chip and collar will remain with him forever.
---