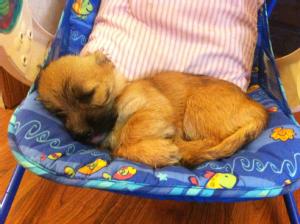 We just wanted to express our thanks and gratitude for your amazing service, PetLink! Not only do you offer microchipping, but the service that goes along with it is commendable. I received an email from your representatives just after the local SPCA had called, letting us know that our precious baby, Phoebe, a two-year-old Border Terrier mix, was found and was safe and sound.
I had been up all night checking the front door, hoping for Phoebe to return. We have a wireless containment fence and the only collar she had on was the one that activates the fence. She wasn't wearing her name-tag collar with our contact information so we were hoping and praying for her to return. Phoebe won't let anyone get close to her so it didn't occur to us that someone would get hold of her to scan for a chip. Thank God our local animal control officer was called and somehow she was able to get Phoebe to the local SPCA.
We have three young children and they were very upset Phoebe was missing. My two daughters were up until after midnight, incredibly stressed. Words can't describe how elated and relieved I felt when I got that email knowing Phoebe was found and safe! Thank you for a wonderful product and fantastic service!
---