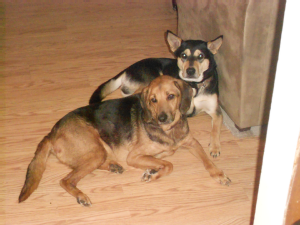 When my hound dog, Bouzer, went missing, I went to the Humane Society, but they don't pick up strays, so they gave me a paper for the Austin Animal Center. After driving around for about fifteen minutes, I finally found the place. I go in with my other dog, Jacobie, and ask if they had picked up a hound dog in the last couple of days.
They asked a few questions which I answered. Then, the lady at the desk turned the computer monitor towards me and asked if the image on the screen was a picture of my dog. I said, "Aww, that's our Bobo!!! That's Bouzer, alright!"
We got the paperwork in order and they brought Bouzer to the Lost and Found area, where Jacobie and I were waiting. As soon as the door was opened, both dogs started licking each other and jumping together! When I got home, everyone was sooo happy to see Bouzer safe and back with the family.
When I arrived at the Animal Center to ask after my dog, the lady still had one more sheet of rescued dogs to go through. Then, normally they would contact PetLink after scanning the lost pet. She said I got there just before they got to contacting PetLink who would in turn have made contact with me. Still, the microchip scan showed that Bouzer belonged to me and helped to reunite us!
---