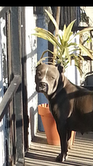 I went out of town and while I was gone, my Pit Bulls, Bone and Bleu, got out. Thanks to PetLink I was able to be reunited back with Bone and Bleu. Thanks be to God for PetLink's microchip!
Because my dogs had PetLink microchips, the dog shelter was able to scan them and find my information to get in contact with me. They had some trouble locating Bleu's chip, so the dog shelter didn't find my information until I went up there to collect Bone. But when I came they rescanned Bleu and found my information.
If there were no microchips in Bone or Bleu, both of my dogs would have been adopted. I'm so glad I have PetLink for my dogs!
---