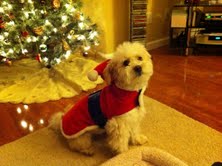 Posted: February 14, 2013
My three-year-old Jackapoo rescue dog, Bailey, was staying with a friend while I went on Christmas vacation. My friend left Bailey at her home on Christmas Eve while she visited family for the day out of town. The back door was left open so Bailey and my friend's dog, Mocha, could go outside into the fenced backyard and do their thing.
I got a phone call from a Good Samaritan called Gloria and then an email from PetLink notifying me that Bailey was found (nobody even knew she was missing yet!). Gloria discovered Bailey running down the middle of the road a mile away from the house. Gloria stopped the car, opened the door and Bailey jumped in. From the two ID tags Bailey wears at all times, Gloria was able to notify me and PetLink and Bailey came home about three hours later!!!! We love her very much and are so relieved she is safe!
---