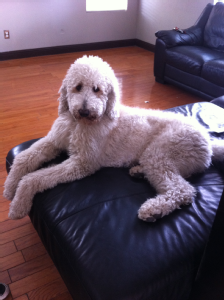 We moved to the UK from the US with our Poodle, Merckx. In Dorset where I live there are plenty of fields. One day I was out for a run with Merckx and I took him off the lead. He started chasing some sheep – he looks like a big sheep himself – and some women farmers were trying to get him out of the field.
I had run past him and couldn't see him anywhere. I later found out he had hit an electric fence with his paw. I looked for Merckx for two hours and went home. I updated his status to indicate that Merckx was lost and soon I got an email telling me I could go pick him up at a vet not far away.
Merckx was scanned by the vet but the microchip did not tally with UK databases. An international search ensued that went from the island of Britain to the continent of Europe and then to the continent of North America. The check was done via a Belgian pet database which established that Merckx was officially registered with PetLink.
The search happened really fast though, just in time to stop Merckx from being taken to a British shelter with a dog warden. His only ID was the chip and without it he would have gone off with the warden and disappeared into the system. No one would have known he was an American dog!
---