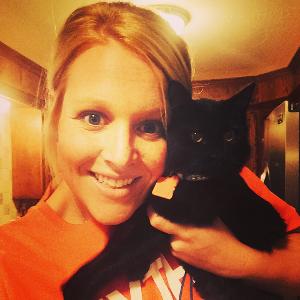 Posted: November 14, 2014
Three weeks ago, my family and I moved to a new house. We had a stray cat that we had taken in about six months earlier. One week after we moved, somehow he got out of the door and took off. We searched for two weeks but he never showed back up. Needless to say my husband, myself and our one-year-old daughter were very upset about losing our cat, which, unfortunately, had not been chipped or registered.
I decided that we would go and find our family a new cat. When we arrived at the shelter, there was a black cat that looked almost identical to the old one we used to have. My daughter and I fell in love with her on the spot and my husband agreed that we should take the six-month-old kitten, Anna, home. As we lifted her from the litter, another kitten let out a heart-breaking cry… and that's how both Anna and her sister, Elsa, came home with us! I wish we had had PetLink with our first cat so he could be reunited with us all again. However, I am sooo happy to have PetLink for our two new additions and we will never let them go!
---