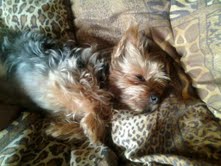 Posted: February 14, 2013
Four years ago my Yorkshire Terrier, Mook Mook went missing or maybe some one took him. I was so hurt and sad – Mook Mook was there when I had some heath issues – he was my blessing. Mook Mook was everything to me, he helped me change into a happy person again so, when he disappeared, I was lost and alone.
I want you to know that Mook Mook and I have been reunited this evening. I thank you for your help. I never thought we would find each other again. After we had been apart for four years some people found him and went to the same SPCA where Mook Mook had his chip put in. I got an email telling me that Mook Mook had been found and they gave me the person's phone numbers. I called and went to pick Mook Mook up at their place. The chip really did work, it just took a long time for Mook Mook to be found.
It's a miracle that these honest people helped bring me and my Mook Mook back together again. My birthday is in two days and this is the best gift ever. I was so happy to see him. Mook Mook was so happy to see me and won't leave my side. My baby! I still can't believe he is here with me! Thank you PetLink.
---