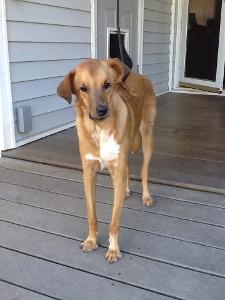 While walking on a dirt road behind our house, our mixed-breed puppy, Bliss, got scared and pulled out of her collar. It was getting dark and we could not see where she had run. We looked for four hours. I went home that night and registered her lost on PetLink. The site gave me a great option to print a 'Lost pet' poster and flyers. We went out the next morning and put a flyer on every mail box in the area.
Bliss is a challenged dog. She is blind in one eye and slightly hard of hearing. She was born with hydrocephalus and we were told she would not live. She is now a year old. Bliss was missing for nine days and nine nights before someone found her. She is home safe and doing well – our miracle puppy twice over.
Even though we did not have to use the microchip it was comforting to know she has one and the great PetLink posters and flyers did the trick!
---