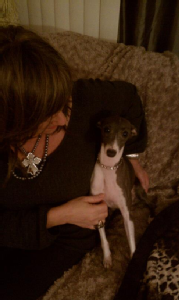 I have a fenced yard so, normally, my Italian Greyhound, Olive, never really runs. She's a regal-looking dog and, when she's out, can run up to 30 mph, beating lots of other dogs. One morning she wouldn't go out to the yard to go to the bathroom. She kept looking at me and wouldn't go. She wanted to go back to the house so I left her there in the yard and went back to the kitchen.
Then, I heard the sound of screeching at the gate. I called her and she was gone. Perhaps someone took her, I can't be sure. I was putting an advertisement online on a Greyhound rescue site that Olive was lost when PetLink phoned me to say someone had found her. Someone picked her up and took her to a vet close by and we received the call soon after. It was very fast.
Olive was all scraped down her neck and leg and was limping. She's not a cuddly dog but the injuries suggest that she squirmed away from someone's grasp, maybe fell, and got hurt.
I'm really glad that when I got Olive spayed I had them put in the microchip. Without that, how would you ever know which pet belongs to who? It's fantastic! I'm very grateful to have Olive back – I would have been sick to lose my little girl.
---