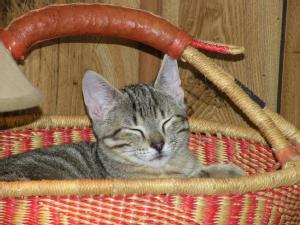 Posted: December 20, 2013
Our cat, Tigger, did not come home one morning after sneaking out with the dog when he went out the night before. I advertised, called shelters and the vet, then finally gave up, only to have him show up at the door eight days later, thin, tired, but, thank heaven, with no injuries. Not sure where he was, but we are so happy to have our boy home again!
While Tigger was missing we looked on the PetLink site for help and there were lots of good tips to help find him. We offered a reward on Craigslist and mentioned that Tigger was microchipped. In fact, I almost wonder if someone took Tigger thinking he was a stray and then saw the ad I placed that mentioned his microchip. Tigger did not look like he had gone without food for the eight days he was on the lam, but we'll never know for sure. The wonderful thing is, he's home!
---