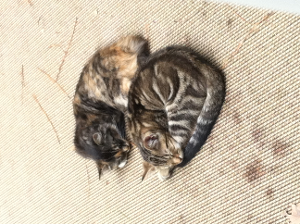 Posted: December 23, 2014
I am VERY happy that I microchipped my cats, Cheetah and Camo. They are indoor/outdoor cats that I got as kittens a year ago. When I had them fixed at four months old I had microchips put in them while they were in surgery. It didn't cost much more and was a great time to do it. A week ago one of my neighbors set a trap and caught one of our cats, Cheetah. Apparently, she thought she was a stray or feral cat, which is odd since she knows we have cats and they've been around in the neighborhood for a year.
Anyway, animal control picked Cheetah up around noon on a Wednesday afternoon and brought her to the local shelter. The shelter immediately checked her for a chip and got my phone number from PetLink records. They called me directly to say they found Cheetah and even stayed open late till 5:30 p.m. so I could pick her up that night. Cheetah was not pleased about being in the shelter's cage and I'm very glad I was able to get to her within just a couple of hours.
We brought her home and she's happy as can be, and I think she avoids going around that neighbor's house now 🙂 although we do still let her go outside. We have also now put a collar on Cheetah with our phone number so that if anyone finds her they may call directly before she goes to the shelter. Animals do not like being in traps, cages or shelters, but if she does end up there again, at least I know I will get her back as quickly as possible since she is chipped.
---