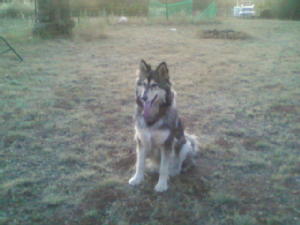 My son Michael's dog, Blaze, moved with the family from Walnut Creek to Copperopolis in California. He was familiar with the neighborhood but he missed my son Michael while he was at work. The day he went missing we think he tried to follow Michael's car to work. My son has a gated front yard but somehow Blaze wriggled out and left some of his hair on the fence post. He must have followed the scent of the truck and kept on going. My son took the truck and parked at his boss's boat dock at the lake. When Blaze was found two and a half days later he was all wet. We figure he had been swimming for those days following a six-mile creek.
We thought Blaze could have been anywhere. My son's a runner and he would train with Blaze running beside him each morning. We thought he would know the area so we scoped it but didn't find him. He's a very beautiful dog and anyone could have just taken him. As soon as Blaze went missing we alerted PetLink and put the word out to everyone. The sheriff and county pet service hooked me up with a local woman from pet rescue who explained in detail how and where to put up posters and then I just prayed!
Two days later, my son Michael was in a running a 10K race. He was so upset about Blaze he hadn't been sleeping and didn't have the full energy to compete. He started the race with a heavy heart but he told himself that at the end of the finish line the dog would be back. A minute after he left the starting line I got a call on my cell from PetLink that Blaze was found. 'Are you missing a dog?' said the rancher who had picked Blaze up early in the morning. The PetLink details had just been changed two weeks earlier with updated information because of the move. Blaze jumped right in when the rancher opened the car door. He wouldn't accept a reward. While this was happening, I was still at the track to take pictures of Michael crossing the finish line. He came in first place! When I told him we got Blaze back he was so happy he picked me up off the ground. We were twice blessed that day!
---